Do you have questions about typical child development? Would you like a formal evaluation to determine if your child has a speech or language deficit, learning disability, or sensory difference? The Firmly Planted therapy team is offering 45 minute basic evaluations on Saturday, March 18th, 2023. During your session, a therapist will complete standardized assessments tailored to your child's needs and provide you with a brief bullet point write-up of potential diagnosis and next step recommendations. We will also talk with you about questions & concerns after evaluating your child. If follow up treatment is recommended, we can walk you through basic home strategies (if that's a good fit for your child) or refer your child to an outpatient clinic or therapist in Vancouver. The fee is $50 per session and your evaluation will be approximately 45 minutes long. See below for the services offered by our therapists and schedule accordingly.
Schedule OT Evaluation with Jill Valenti
Schedule SLP Evaluation with Caroline Magno
Schedule OT Evaluation with Jilda Burlacu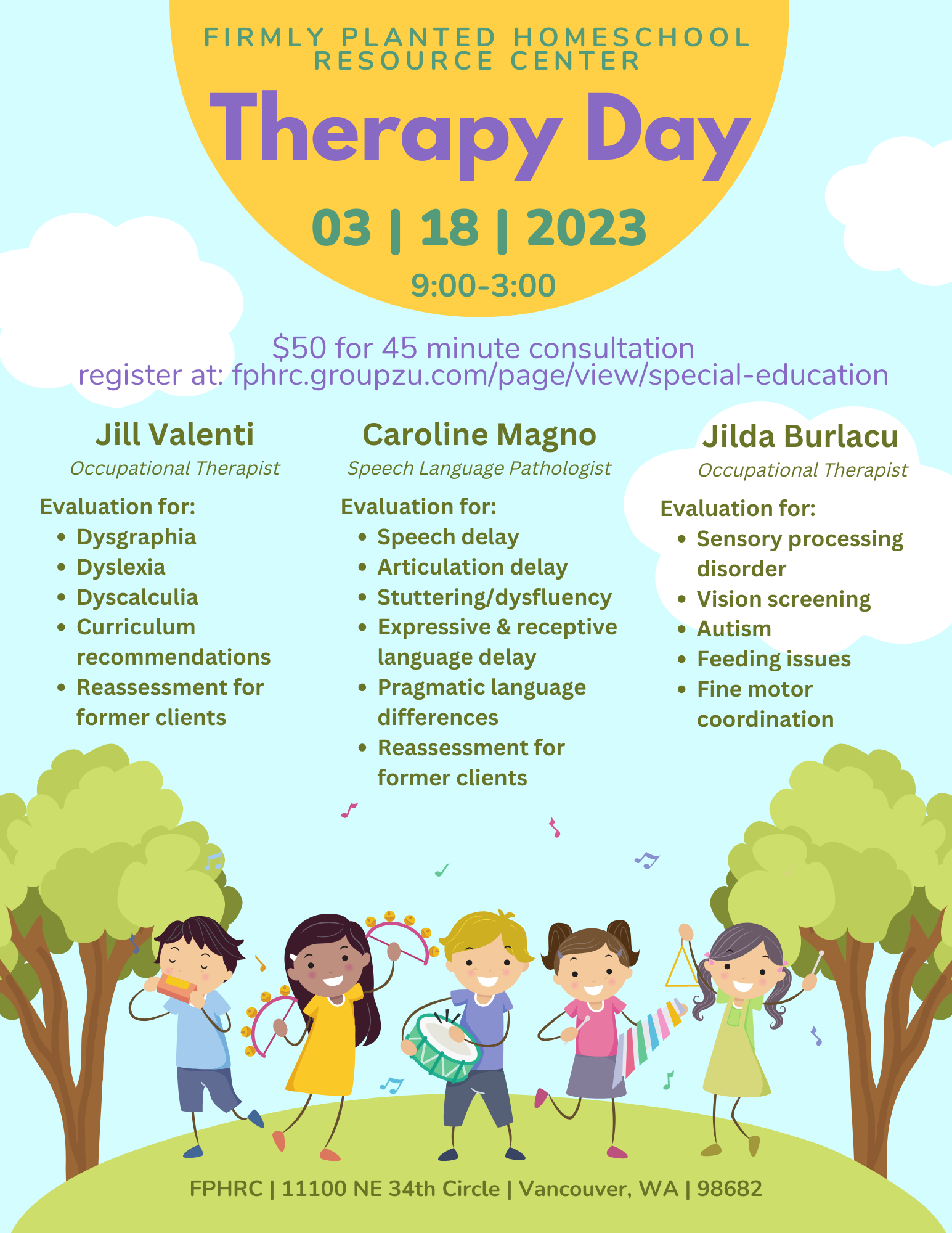 ---
The
Firmly Planted Homeschool Resource Center

is host to a wide variety of specialists and professionals that are eager to help you with your homeschool journey! From private consulting to therapy sessions, we've got you covered!

See below for pricing and appointment scheduling



I can:
Help identify behavior issues that may be caused by underlying learning and thinking differences.
Teach strategies to improve focus, work habits, and be a more effective learner.
Teach time management and organization skills.
Work with parents to understand their child's IEP or 504 plan and how to work with them at home, and advocate for them within the school setting.
Provide a safe environment for your child to talk about school or learning challenges and learn how to self-advocate.
Act as a link between home and school and/or help coordinate with other specialists both in and out of the school setting.
Work towards goals set forth by other school or private professionals working with your child.
Provide intervention level tutoring services and/or recommend programs to use with your struggling learner at home.
OCCUPATIONAL THERAPY CONSULTATION ($100/50min)
Do you...
Struggle identifying your child's learning style?
Suspect dyslexia, dyscalculia, or dysgraphia?
Need help implementing sensory strategies?
Wonder what curriculum is the best fit for your child?
Wish your child's IEP was tailored to your homeschooling goals?
I am a homeschool mom and licensed and registered occupational therapist and can help you in all these areas, and more! OT evaluations/consultations are $100 and are approximately 1 hour. They include formal administration and scoring of appropriate developmental assessments and written report of intervention suggestions, sensory diets, and/or curriculum recommendations. Your child does not need to have an existing IEP or developmental diagnosis to receive or benefit from OT services.
OCCUPATIONAL THERAPY TREATMENT ($100/50min)
I am a mom of two and recently a stay at home mom. I'm a licensed occupational therapist who has worked in early intervention and private clinics. I have worked with children 0-18 years with various disorders, most recently with children with Autism and Sensory processing disorder. I can help with fine motor, coordination, balance, feeding, and various sensory needs. I am trained in the Therapeutic Listening Program, infant massage, The Alert Program, some DIR, Interactive Metronome, Zones of Regulation, and Vestibular Activation.